As part of its Canada 150 celebration, the Township of Esquimalt has installed new interpretive signage at Fort Macaulay, a historic coastal defence fortress built in 1895 by the Royal Engineers. Signage design, construction and installation were made possible through funding from the Government of Canada.
"Providing interpretive information at Fort Macaulay has long been planned and installation during Canada 150 and in advance of Remembrance Day is very timely," said Mayor Barbara Desjardins. "Visitors to the site can now get a fuller understanding and appreciation of the military history of this historic site."  
The signs trace the history of the Fort, which was part of the original Victoria-Esquimalt Coastal Defence Fortification System that also included Fort Rodd Hill. These coastal defences protected the west coast until after the Second World War. The signage also tells the story behind the structures and buildings that remain intact on the site. 
Fort Macaulay is located within Esquimalt's Macaulay Point Park, which the municipality has leased from the Department of National Defence (DND) since 1985. The DND provided guidance and input during the planning and design phase of the project.  In 2013 Fort Macaulay was placed on the Township of Esquimalt's Heritage Register.
In addition to the signage, a map brochure—available at Municipal Hall—has been developed as a historic guide to the site. An interpretive event is held at Fort Macaulay in late May of every year featuring military re-enactments, displays and guided tours.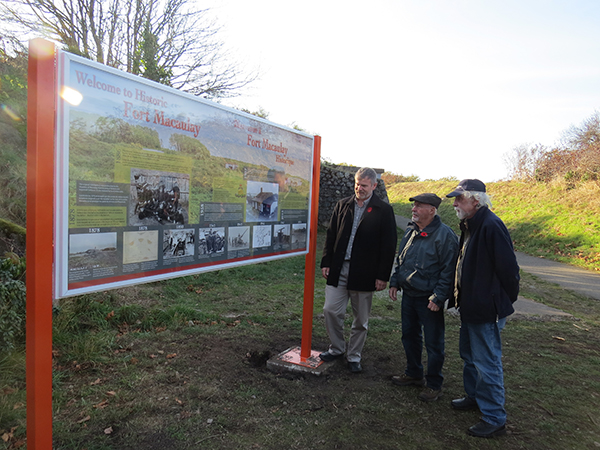 Sign designer Chris Edley, local military historian Jack Bates and municipal archivist Greg Evans check out the placement of the newly installed interpretive signs at Fort Macaulay. 
We acknowledge the financial support of the Government of Canada.
Nous reconnaissons l'appui financier du gouvernement du Canada.
For more information, please contact:
Ritchie Morrison, Communications Specialist
Tel: 250-414-7122