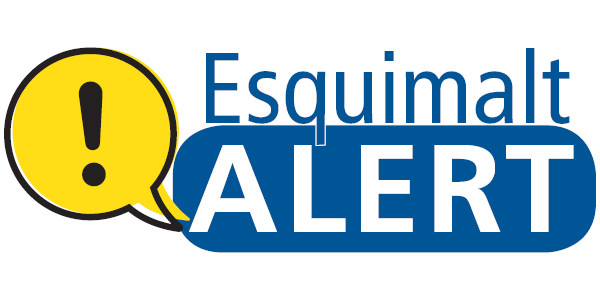 Esquimalt Alert is a multi-purpose communication service used to send alerts to residents, workers, businesses and visitors in Esquimalt during emergency events like fires or floods as well as for relevant day-to-day communications such as garbage pick-up reminders, snow removal advisories, planned maintenance, water advisories, etc. 
Esquimalt Alert's primary role is to provide emergency notification information for tsunamis, earthquakes, significant fire or police incidents, and other large-scale events that will affect people in the township. 
There is an option to sign up for more general notices: traffic advisories, pool closures and other convenient information. 
Users can subscribe through the Voyent Alert app (available for iOS and Android) or online, choosing both through what devices and on what topics they want to receive the alerts. For example, someone could choose to receive tsunami information by phone call, text and mobile alert but choose garbage schedule information only by email.
Families can use Esquimalt Alert to flag their children's schools, as well as workplaces and homes of family members, making the system customizable to individual households.
Where can I get help signing up?
If you are having issues signing up, please try the help page or call 250-414-7120 and leave a message.
How do I report a problem?
Please send an email to [email protected].
Learn more