Navigating Your Online Account 
Please check back as more tutorials/instructions are added. 
---
How to Register for a Program/Session Online 
---
How to Complete a Camp Emergency Form Online
Create an account or log in with your email address. Forgot Your Password? Select "Forgot You Password" & check your inbox to reset.
Toggle the child for whom you are completing the form OR select "Add a Member" to add a child to your account & Select: Next
Complete all field & select: Next
Select: Checkout
(Optional) Select: Print Registration Confirmation to view your completed form
---
How to Add Alternate Pickups (for Camps) to Your Online Account
Login to your account: www.esquimalt.perfectmind.com
Click On: Family member to add pick up contacts to
Select: Edit
In the alternate pick up text boxes, add: first & last name, phone number of contact
SAVE the updates to your account
---
How to View Your Schedule Online
Looking for confirmation of your registrations or an easy way to view a calendar of activities for family members? Save, print or email your own schedules through your online account, here's how:
1.  Log in using own email and password.
2. Click My Info to view family members OR select any family member where the list of members populates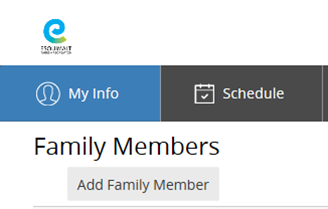 3. When viewing the client (family member) record, click the section called Schedules. Your schedule for the current month appears.
4. If applicable, tick the checkbox beside each family name to add or remove them.
5. If desired, click the arrows beside the name of the month to navigate to other months.
​6. Export the Schedule as PDF or Email
7. After selecting a date range of up to six months, click Export to PDF, to save a PDF of the schedule for printing or attaching to an email.
8. Click the Export button to generate a PDF document. Click the Email button to attach the PDF schedule to an email. The email is sent to your primary email address. If there is not one on file, add email address in the popup window and click Send. A message appears when the email is properly sent.
Note: Each month is displayed on a separate page. Events will list the person's name, and the event name, date, and start and end times.
---
How to View/Access Your Family's Tax Receipt Online 
1.    Log in using own email and password.
2.    Select family member. 
        Notes:
        • Some tax receipts will populate through the PARENT/PAYER, while others will                  populate through the CHILD.  
        • To ensure you are pulling your full tax information, please repeat the following                 steps for each family member.
3.    Once you have selected a family member, click on the Tax Receipt button in the              top right corner.

4.    Tax Receipts for the previous tax year will automatically populate.  To adjust the                tax year you wish to pull receipts for, click on the arrow next to Tax Year, and                  select the applicable year.  Click Preview to update your search.
       Note:
       Self-serve tax receipts are available up to and including 2017 registrations;                         please contact us at the Recreation Centre for previous years.
5.    From here, you can SAVE or PRINT your results