Looking at improvements on how you and your family travel in Esquimalt
Lampson & Tillicum corridor active transportation improvements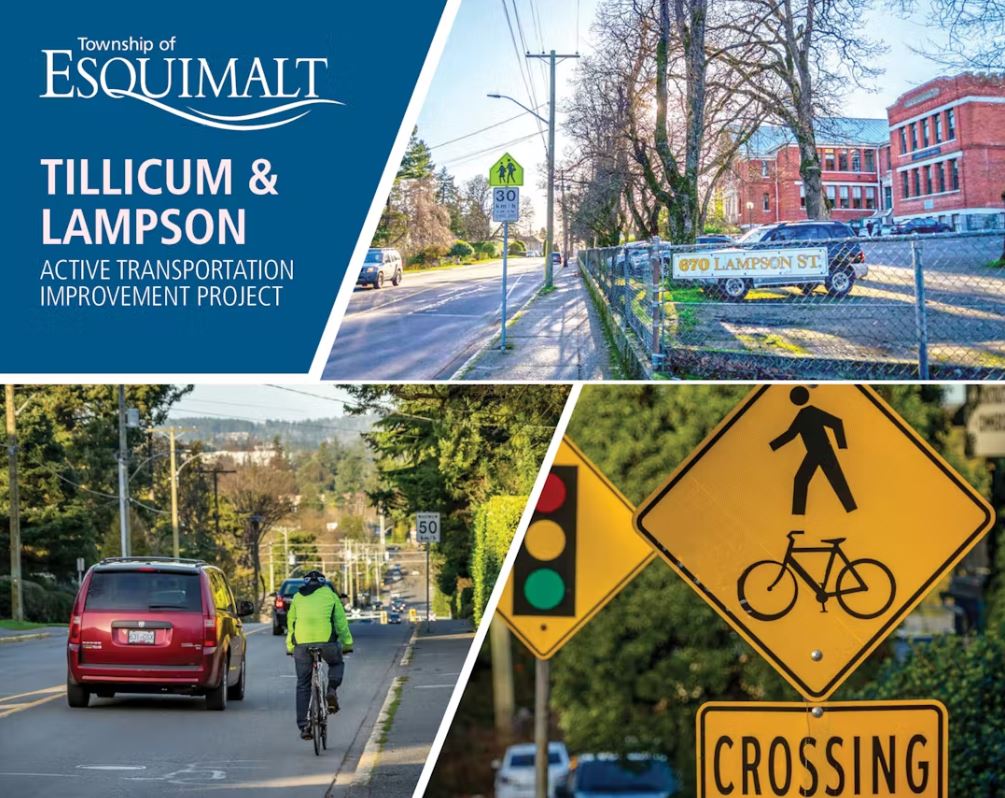 The township has proposed design improvements for both Lampson and Tillicum streets. Using feedback based on our Active Transportation Network Plan public engagement as well as previous surveys, these draft designs aim to enhance road safety for cyclists and pedestrians.
Before moving forward to finalize designs, the township wanted to showcase the plan's features then hear feedback from residents and businesses on these proposed changes.
Project updates
The engagement summary went to Esquimalt Committee of the Whole on January 16, 2023 with council making recommendations in addition to what was presented in the report:

Tillicum and Lampson Active Transportation Improvements, Staff Report No. EPW-23-001 

a) "That the COTW recommend to Council that staff be directed to finalize designs for active transportation improvements on Tillicum and Lampson corridors, with the following additions based on public engagement: • additional traffic calming islands on Lampson Street between Craigflower Road and Transfer Street; • review an additional flashing beacon crosswalk on Lampson Street at Fernhill Road; • review of the Lampson Street and Devonshire Road / Rockheights Avenue intersection for an additional flashing beacon multi-use crosswalk and southbound left turn lane; • widen the sidewalk on Old Esquimalt Road between Lampson Street and Head Street as described in Staff Report No. EPW-23-001. 
b) That the COTW recommend to Council that the design for the active transportation improvements on Tillicum and Lampson corridors be referred to the Environment, Parks and Recreation Advisory Committee for information."
Active transportation network plan
The township launched a multi-phase engagement campaign to hear how residents want to see multi-modal transportation in Esquimalt take shape.
The plan:
identifies gaps in the pedestrian and cycling network;
recommends improvements to the quality and experience for people walking, biking and rolling;
provides a roadmap for high priority improvements over the next 5–10 years;  
aims to increase the share of trips completed by active transportation and to more broadly reach the greenhouse gas (GHG) targets set out in the Official Community Plan.  
Council approved the plan and directed staff to bring forward initiatives for Council consideration that include budget and capacity implications during the 2022 budget planning process.
This made-in-Esquimalt plan is driven by best practices and the latest design guides to reflect the needs, interests & priorities of the community.
More information