Township of Esquimalt Recreation facilities have some adjusted openings. Playgrounds are open with posted safety reminders.
---
Water fountains in Esquimalt parks
Saxe Point Park: beside main parking lot
High Rock Park: neat pathway in the dog off-leash area
Memoiral Park: beside playground
West Bay: entrance of the walkway
Gorge Park: south side on the nature house
Adventure Park: Lion's head fountain
Notices
For weddings in parks, please review the related operating guidelines and details that must accompany your booking request here.
For playing field status, please click here.
Hither Green Playground - Community Consultation. Click here to learn more.
Community Garden at Anderson Park Expansion. Click here to learn more. 
Park
 
Date(s) Affected
Notice
 

Esquimalt  Gorge Park

 
July 2020-January 2022

Construction of a highly energy efficient Pavillion in Esquimalt Gorge Park.  Work includes development of a Japanese inspired reflective pond and landscaping with associated parking and rain gardens. Cibstruction will occur September 15 2020-January 2022 (estimated, subject to change).  Limited parking available at Sioux Pl during the construction period.

As timelines are established and more information is available, notices will be updated and in-park signage will be posted. 

West Bay Walkway
 
Monday Sept 20, 2021-Friday Sept 24, 2021
Parking lot will be closed due to maintenance on the  drain manhole.  Pedestrian trafffic will still have access.
Esquimalt Gorge Park
 
Wednesday Oct. 20 - TBA
The power to the park  is temporarily disconnected to allow for  conversion of power to the new Esquimalt Gorge Park Pavilion. Nature house and washrooms are temporarily closed, port o potty on site.  Power will be reconnected when work is complete.
 
 
 
 
Click the map below to view park amenities, including which have washrooms, playgrounds, dog on leash, no dogs allowed, etc. features. Enjoy your experience in Esquimalt Parks!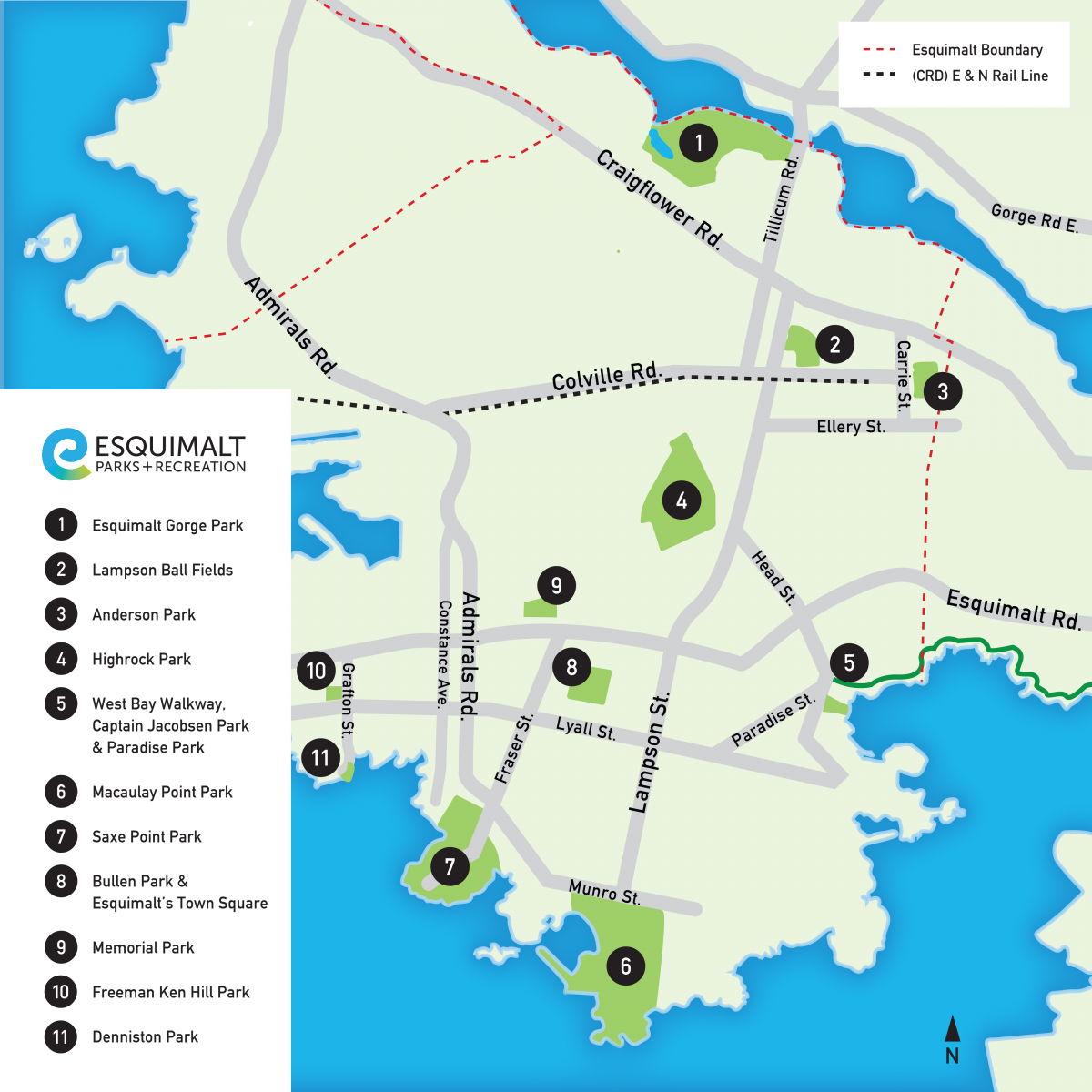 Click here to see updates on the status of our playing fields.
Link to profiles for Esquimalt's: