Weather update
As we accomodate the seasonal snow and winter weather, please check our  home page or Twitter account for any schedule changes. 
The Esquimalt Public Works Department manages garbage collection in the Township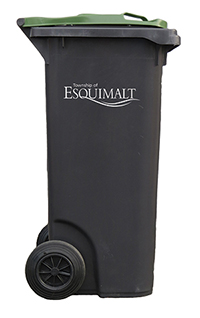 of Esquimalt.
Starting in 2014, the Township began participating in the Regional Kitchen Scraps Strategy. Please visit our kitchen scraps page for more information on the program. 
The Capital Regional District manages residential pick-up of blue box recycling in Esquimalt. Effective May 1, 2015 contact Emterra Environmental to request a new or replacement CRD blue box or blue bag at 250-385-4399.
Learn more