What is Esquimalt Alert?
Esquimalt Alert is a multi-purpose communication service powered by the Voyent Alert system.  It is used to send alerts to residents, workers, businesses and visitors of Esquimalt during emergency events like fires or floods as well as for relevant day-to-day communications such as snow removal advisories, planned maintenance, and community events. These alerts will relate to events happening within the Township.
How will I receive alerts?
You can select to receive alerts via the Voyent Alert! mobile app, text message, telephone call, or email – the choice is up to you!
What is the best way to receive alerts?
If you have a smart phone, the best way to receive alerts is to download the mobile app. This allows you to see maps of the exact area of emergencies or events. The app is also programmed to alert you of an emergency even if your do not disturb function is set on your phone. If you do not have a smart phone, you can select any of the options above.
Do I have to pay to use the service?
No.  There is no cost to download the app or to register and use the service.  Depending on your mobile rate plans you may be charged by your service provider to receive texts or with any data usage.
Why should I sign up?
It's a free and easy way to receive important emergency alerts and community information in Esquimalt.
What information will I receive?
When you sign up you will automatically receive any emergency alerts. These may be alerts about tsunami warnings, evacuations and areas to avoid during an emergency.
You can also choose to receive information on day-to-day community topics that interest you. These include open house and workshops, public hearings, parks and facilities closures, community events, garbage pickup reminders, public works / service disruption advisories, road closure advisories, emergency preparedness information and events.  These will be posted periodically as these events are scheduled.
We will post the same information that is available on our website and social media accounts.
Will I receive updates about all road work in Esquimalt?
We will only post information on major traffic disruptions and road closures in Esquimalt.
How do I sign up to receive alerts?
Users can subscribe through the Voyent Alert! mobile app or online, choosing both how you want to receive the information, and on which community topics you want to receive alerts. For example, you can choose to receive tsunami information by phone call, text and mobile app alert, but choose community event information only by email. You will have register for each different delivery method (telephone call, text message, or email) separately. In the example above, you would register with your email to receive community event information, then register to receive notifications via text and phone call.
How often will I receive alerts?
You will receive emergency alerts only when there is an emergency. Community topics will be posted as necessary.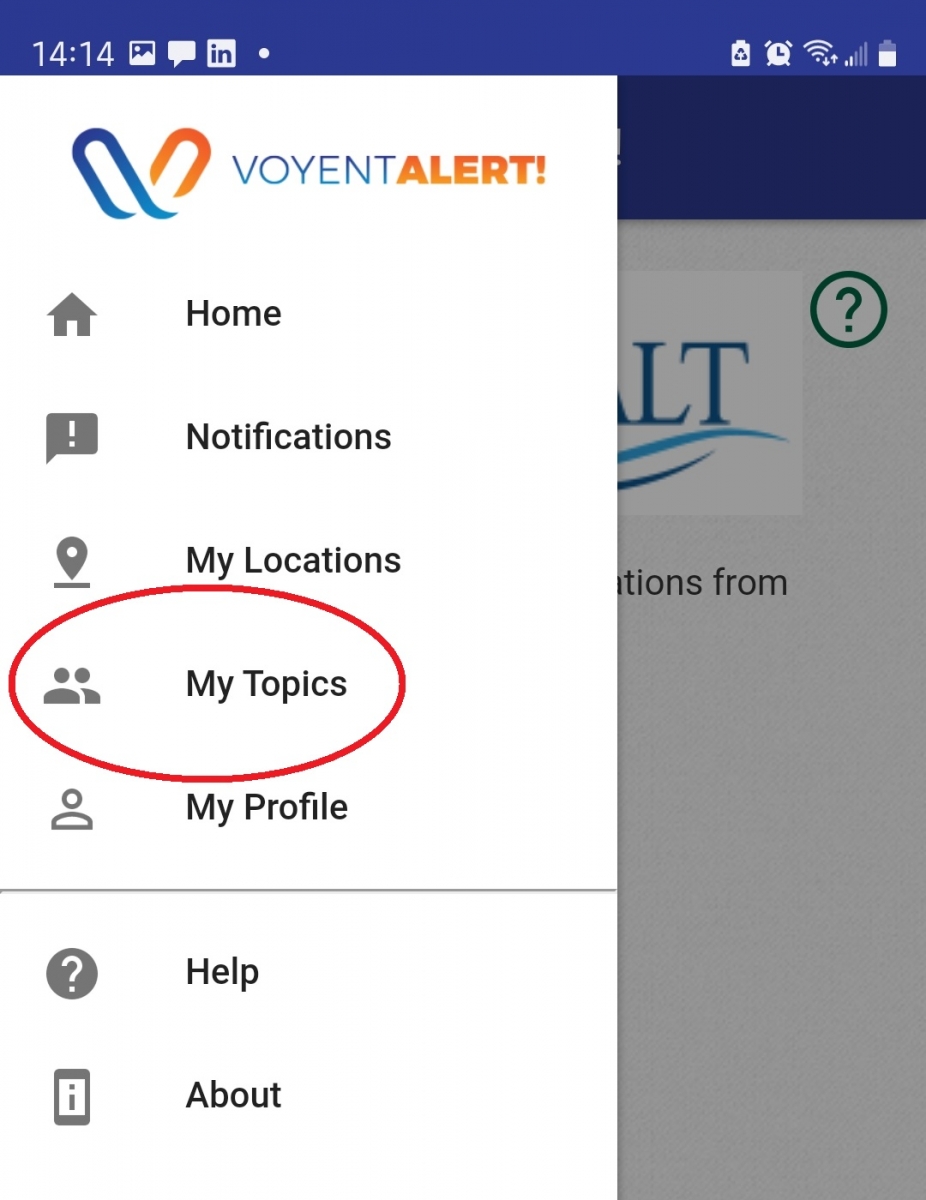 What if I decide I don't want to receive information on a community topic?
You can change the settings in your profile at any time, just open the app or login with the email or telephone number you used (on this web page), click on the upper left corner then on "My Topics".
What if I decide I don't want to receive alerts anymore?
You can unsubscribe to the whole tool at any time, just login with the email or telephone number you used (on this web page), click on the upper left corner, then "My Profile", and the small arrow to unsubscribe.
Is my information private?
Yes! The system is anonymous as you do not need to provide your name, only your postal code. View our privacy policy.
Do I need to sign up if I've already signed up for Vic Alert?
Yes. Vic Alert will only have alerts relevant to the City of Victoria. Each municipality may have their own alerting system. Residents can sign up for more than one system.
Can I sign up if I don't live in Esquimalt?
Yes – if you work or go to school in Esquimalt, or have family that does, it is important that you receive alerts. Just enter the postal code of the place of work or school that is in Esquimalt, then select how you want to receive alerts. 
Is Esquimalt Alert different than Alert Ready?
Yes. Alert Ready is a Federal alerting system that will notify residents of large-scale emergencies, like a tsunami warning. It will not provide detailed information about Esquimalt, like whether evacuations will take place or the locations of reception centres. These will be issued by Esquimalt Alert.
Is Esquimalt Alert linked to the CFB Esquimalt sirens?
No. The sirens at CFB Esquimalt are for base emergencies only. The Township has a close relationship with CFB Esquimalt and if the emergency is relevant to residents, we will issue a separate alert via Esquimalt Alert.
Where can I get help signing up?
If you are having issues signing up, please try the help page or call 250-414-7120 and leave a message.
How do I report a problem?
Please send an email to [email protected]