In Esquimalt, all dogs over the age of four months must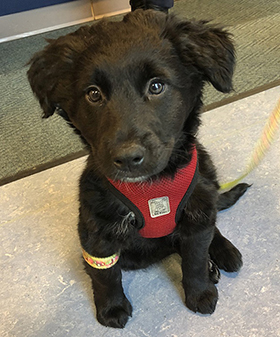 be licensed.
Need a licence for a new dog?
Call us at 250-414-7100 (M-F, 8:30 a.m.-4:30 p.m., except holidays) or email [email protected].
Dog licences go on sale at the beginning of each year and are valid until December 31st. 
For residents whose dogs were licensed by the municipality the previous year, dog licence reminder notices are mailed at the start of the year and licence fees must be paid by January 31st to avoid a late penalty.
Dog licences can be purchased:
In-person at the Municipal Hall (1229 Esquimalt Road). Payment may be made by cash, cheque, or debit card.
By mail. Please enclose both copies of the dog licence notice with your payment addressed to the Corporation of the Township of Esquimalt, 1229 Esquimalt Road, Esquimalt, BC V9A 3P1. A validated copy of the notice will be mailed to you with your dog tag(s).
Please phone the Municipal Hall at 250-414-7107, if you are no longer the owner of a dog for which you received a notice.
Dog licence tags
A dog licence tag must be attached to the collar or harness of the dog for which it is issued.
Dog tags may not be transferred from one dog to another or from one owner to another.
Replacements for lost or damaged dog tags may be purchased at the Municipal Hall for a fee of $5.
Fees
Dogs that have already been licensed for the current year in another jurisdiction in Canada and are new residents to Esquimalt may have a dog licence purchased for the remainder of the current year at no charge. Please provide proof of previous licencing when obtaining your replacement tag.
A $20 late dog penalty is added when an owner fails to license a dog within 30 days of the date on which the dog was required to be licensed.
Dog Licence Fees
Sterilized dog licence: $30
Unsterilized dog licence: $40
Late purchase: $20
Replacement dog tag: $5
See Schedule A in the Animal Management Bylaw 2015 No. 2841 for additional fees.
Bylaw
Download Esquimalt's Animal Management Bylaw.