The next Local Government Election will take place on October 20, 2018.
A Mayor, six (6) Councillors and nine (9) School Trustees will be elected for a four (4) year term in the 2018 election. If you have questions about voting in the election, please visit our Information for Voters page.
Official election results are posted here.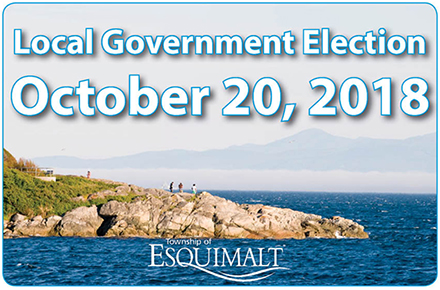 Declaration of Election by Voting
Read about voter eligibility by reviewing the the Notice of Advance Elector Registration and Availability of List of Registered Electors 
Important dates 2018:
Click here for a complete list of important dates concerning the 2018 Local Government election.
Other important information
Chief Election Officer, Anja Nurvo; contact [email protected] or 250-414-7135

Deputy Chief Election Officer, Rachel Dumas; contact [email protected] or 250-414-7157

Two Advance Voting opportunities on October 10th and 17th, 2018, 8:00 am to 8:00 pm at Municipal Hall, Council Chambers, 1229 Esquimalt Rd, Esquimalt

Special Voting opportunity for residents only at Sunset Lodge, Esquimalt, on October 11th, 2018, 10:00 am to Noon.

General Voting Day on October 20th,2018,  8:00 am to 8:00 pm at Esquimalt Recreation Centre, 527 Fraser St, Esquimalt