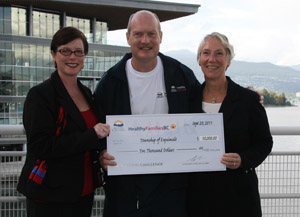 BC Minister of Health Mike de Jong presents a cheque for $10,000 to Mayor Barbara Dejardins and Councillor Meagan Brame at the UBCM Conference on Tuesday September 27th, 2011.
The Township of Esquimalt has received $10,000 through the Healthy Families BC Walking Challenge.
Residents have been sharing their stories, photos and videos about walking in Esquimalt online over the last month through the Healthy Families BC Walking Challenge website. With 141 stories submitted, the Township won in the 10,001-25,000 population category. The money will go towards further improvements to walking trails in the community. The Township now has a one in five chance to win a $50,000 grand prize (to be drawn at random from the population category winners).
"Thank you to all of our residents for participating in the Walking Challenge and sharing their stories," said Mayor Barb Desjardins. "Our community is blessed with so many walking options along our waterways, through our parks, and within the village core."
The Healthy Families BC Walking Challenge was offered in partnership with 2010 Legacies Now, and funded by the Provincial Health Service Authority. To learn more about walking in Esquimalt, visit our tourism website, www.myesquimalt.com.
For more information, please contact:
Jeff Byron, Recreation Manager
el: 250-412-8517