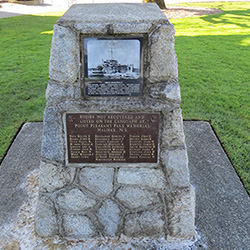 The memorial cairn for HMCS Esquimalt will be moved in early July from its location beside Municipal Hall on Esquimalt Town Square lands to Memorial Park, located across from Municipal Hall on Esquimalt Road.  
With Esquimalt Town Square lands currently under development, moving the cairn to Memorial Park ensures that it will remain on publically owned land where it can be maintained by Township staff.
HMCS Esquimalt was the last Canadian warship lost to enemy action in World War II. The Township and CFB Esquimalt jointly hold a commemorative ceremony each year on April 16th, the day of its sinking in 1945.
The Township consulted with heritage representatives and CFB Esquimalt on cairn relocation during the spring of 2017. 
The public is advised to watch for crews working on the cairn relocation in the vicinity of Municipal Hall on Esquimalt Road. 
HMCS Esquimalt was torpedoed in the approaches to Halifax on the morning of April 16, 1945, just three weeks before the end of the war. The vessel sank with heavy loss of life within sight of the coast. The survivors endured six hours in the frigid water before rescue arrived. Only 27 of the minesweeper's 71 crew survived. 
For more information on the HMCS Esquimalt, read Within Sight of Shore - The Sinking of HMCS Esquimalt at the website of the CFB Esquimalt Naval and Military Museum.