Ribbon of Life is a one-of-a-kind marble sculpture by Chemainus-based artist Daniel Cline. It was unveiled by the Township on Monday November 10th, 2014.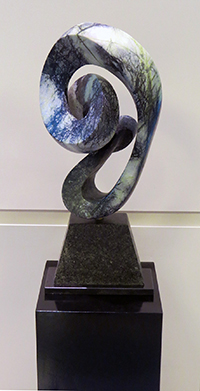 The sculpture, purchased by the Township through its 2014 Local Grants Fund, is displayed on a four-month rotating basis throughout the year at Municipal Hall, the Esquimalt Branch of the Greater Victoria Public Library and the Esquimalt Recreation Centre.
The Ribbon of Life was the winner of the People's Choice Award at the Township Community Art Council's Sculpture Splash 2014, held on September 20 and 21, 2014 at Macaulay Point Park.