The Centennial Book: A Celebration of Esquimalt's History 1912 - 2012
A literary lasting legacy (and great gift!)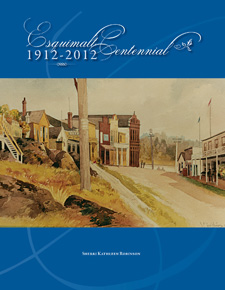 The Centennial Book "Esquimalt Centennial, 1912 to 2012" written by Sherri Robinson, well-known historian and writer, is a tangible legacy of our history, our pioneers, and their stories. The book features wonderful archival photos that remind us how Esquimalt has changed from a wooded hamlet to the thriving community it is now. Purchase your copy of this very high quality and fascinating book today to show your children, your relatives and friends how our fine community came together over the past 100 years. The Centennial Book has received an Award of Honour from Heritage BC. Author Sherri Robinson and Centennial Vice Chair Bruce Devitt were presented with the awards at an Esquimalt Council meeting on November 18, 2013.
"Esquimalt Centennial, 1912 to 2012" is now available at Municipal Hall, 1229 Esquimalt Road. $20, including taxes. Get this timeless book while supplies last!
For more information on the Esquimalt Centennial Book, please contact Communications or call 250-414-7122.