In accordance with the provisions of the Community Charter, Council will consider the Township of Esquimalt Annual Report at a meeting to be held 7 p.m. Monday, June 27, 2016 in Esquimalt Council Chambers, 1229 Esquimalt Road.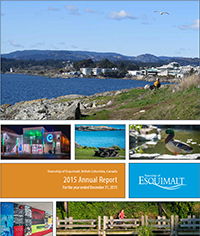 The purpose of the meeting is to provide the public with an opportunity to make submissions and ask questions on matters contained in the 2015 Annual Report. The report includes the 2015 financial statements, value of 2015 tax exemptions, a report respecting municipal services and operations, and a statement of municipal objectives and measures.
A copy of the Draft 2015 Annual Report can be viewed during regular business hours at the Municipal Hall, 1229 Esquimalt Road. The report is also available for online viewing here.
For more information, please contact: 
Anja Nurvo, Director of Corporate Services
Tel: 250-414-7135