Thank you for your votes!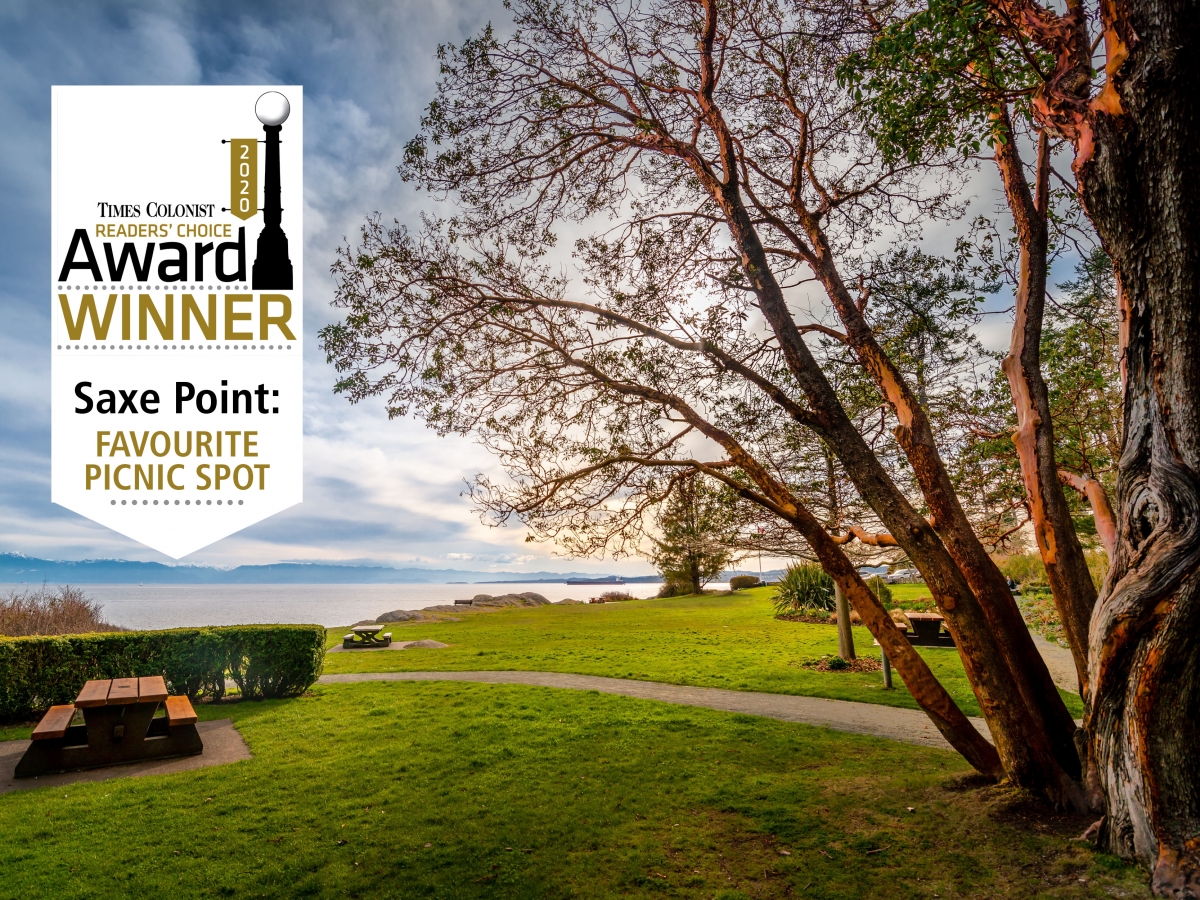 There are many beautiful places in Greater Victoria and we are honoured to have been chosen at this year's winner in the annual Times Colonist Reader's Choice Awards. Staff and residents alike are proud of all our parks and Saxe Point is no exception.
The park provides spectacular views of the Olympic Mountains and Strait of Juan de Fuca. You can walk the forested trails set among mature Douglas fir and Grand fir trees, explore the beaches, or enjoy the views from one of the many picnic tables. The waters around Saxe Point are considered to be some of the best in the area for scuba diving.
For spontaneous picnic-goers, Esquimalt has food choices for every taste within a short distance. There is no shortage of coffee shops and traditional baked goods for those with a sweet tooth. If you crave international fare, you can find East African, Japanese, Italian, Indian, Vietnamese and Thai cuisines, just to name a few. 
Besides enjoying the park for a picnic, visitors can take advantage of the township's self-guided walking tour of the area. The tour takes you to naval historical sites, tree-lined pathways, heritage architecture and impressive seaside views. 
Want to get your hands dirty? The Branch out Community Stewardship Program provides volunteers with opportunities to restore natural areas within parks. Volunteers are trained on how to remove invasive species in an effort to make the natural areas more biodiverse. 
Saxe Point Park is located on Cape Saxe, named by Lt. Commander James Wood, a member of the crew of HMS Pandora, who surveyed the area in 1849. The name Saxe is part of the title of HRH Queen Victoria's husband and consort, Prince Albert of Saxe-Coburg-Gotha. 
Saxe Point was designated as park land in 1934. During World War 2, many trees on this 7.5 hectare site were cleared and a searchlight was installed as part of the DND's shoreline defense.
Find the park at the end of Fraser Street, with foot paths off of Munro and Bewdley streets. The park is readily accessibly by bus, foot or bike as well as provides accessible parking.
More about Saxe Point and other township parks found at Esquimalt.ca/parks