Esquimalt resident Peter Justo was honoured with the Queen's Diamond Jubilee Medal at a ceremony in Council Chambers on September 10th, 2012. The Jubilee Medal is awarded to citizens who make exceptional contributions to their communities.
Peter has been very active over the years in many community projects and organizations, including Emergency Social Services, Silver Threads, and Esquimalt Together Against Graffiti. He was nominated for the award by Esquimalt Council on June 18th, 2012.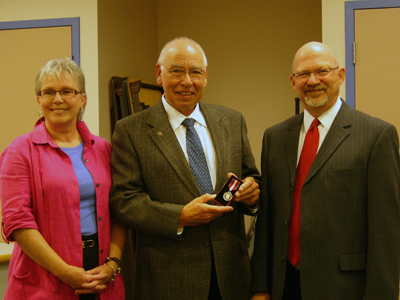 Presenting the award to Peter on behalf of Mayor Desjardins, Council, Township staff and the community was Esquimalt – Juan de Fuca MP Randall Garrison and MLA for Esquimalt – Royal Roads Maurine Karagianis.