The two WWI German guns located at Esquimalt's Memorial Park were moved earlier today to an off-site facility so that they can be restored to their original condition.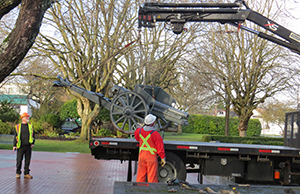 The restoration project will involve replacing missing parts, repairing damaged and rusted components, and cleaning, coating, and re-painting the guns using the original German colours and pattern. Once refurbished, the guns will be re-mounted in the park with recessed lighting in the summer of 2014.
The two field guns are German 77 mm Feldkanone 99 Neuer Art Field Guns, both captured by the 2nd Canadian Mounted Rifles, a BC regiment, in 1917 – one at Vimy Ridge and the other at the Battle of Cambria. They came in to Township possession in 1920, after a request to the federal Commission of War Records and Trophies by the Township Council of the day. Properly caring for and maintaining the guns – which together comprise two of only three known guns of this type in the province – is the responsibility of the Township and an original condition of taking custody of them.
The Township of Esquimalt is joining the Government of Canada in commemorating the 100th anniversary of the First World War with this restoration project and other commemorative initiatives during the 2014-2019 period.
For more information, please contact:
Ritchie Morrison, Communications Coordinator
Tel: 250-414-7122