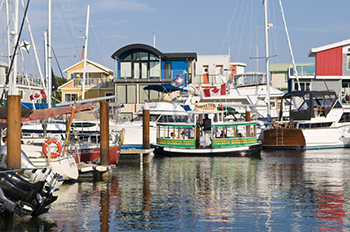 A Jane's Walk will be held in West Bay on Sunday, May 3rd. West Bay is a vibrant mixed use neighbourhood that is Esquimalt's primary gateway and window to the Victoria Harbour. It is defined as the area South of Esquimalt Road, East of Lampson Street, North of Lyall Street, and delineated by West Bay on the East side. West Bay is a geographical gem as well as a popular recreational destination. Experience the historic and eclectic vibe that is West Bay.
What: Jane's Walk in West Bay
Where: Meet at the corner of Wollaston and Head Street
When: Sunday, May 3rd, 11 a.m.
Jane's Walks are free, locally organized walking tours, in which people get together to explore, talk about and celebrate their neighbourhoods. Where more traditional tours are a bit like walking lectures, a Jane's Walk is more of a walking conversation. Leaders share their knowledge, but also encourage discussion and participation among the walkers.
Jane Jacobs (1916-2006) was an urbanist and activist whose writings championed a fresh, community-based approach to city building. She had no formal training as a planner, and yet her 1961 treatise, The Death and Life of Great American Cities, introduced ground-breaking ideas about how cities function, evolve and fail that now seem like common sense to generations of architects, planners, politicians and activists.
For more information, click here.