Two young students from Esquimalt were presented with bursaries to attend the UCLA Rugby Camp by Mayor Barbara Desjardins this morning at Municipal Hall. The $2500 bursaries, provided by the Esquimalt High School Rugby Academy, were presented to Grade 10 student Colton Bottaro from Esquimalt High School, and Grade 8 student Hunter Grant from L'ecole Victor-Brodeur.
The bursaries include airfare, accommodation and transfers to Los Angeles as well as equipment and meals. The two-day UCLA Rugby Camp starts June 24, 2013 and assists young players with overall skill and tactical development while emphasizing values such as teamwork, sportsmanship and camaraderie.
The bursary will allow the two students to focus on rugby and hopefully be leaders in the Esquimalt Rugby Community for years to come.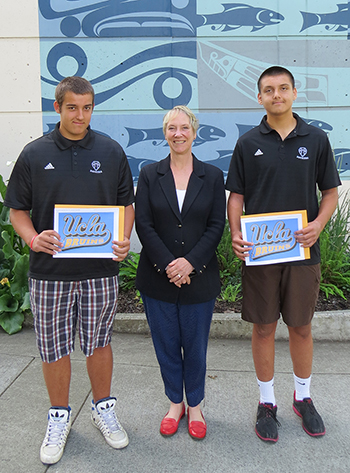 Mayor Desjardins presents bursaries to young athletes Colton Bottaro (left) and Hunter Grant (right). For more information, please contact:
Tom Woods, EHS Rugby Academy 
[email protected]