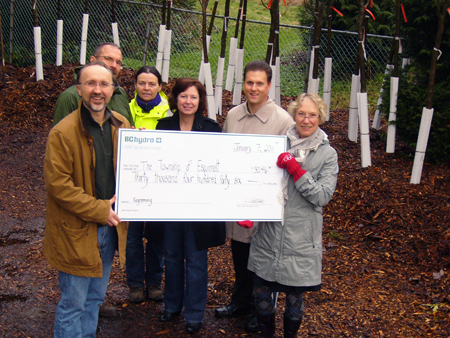 Ted Olynyk, Community Relations Manager for BC Hydro, presents a regreening grant cheque to Mayor Barb Desjardins. Back row left to right: Parks Manager Andy Katschor, Township Gardener 3 Rachel Cregheur, CAO Laurie Hurst and Director of Parks and Recreation Scott Hartman.
The Township of Esquimalt's commitment to municipal beautification has received a helping hand thanks to a BC Hydro Community Regreening Grant. The provincial utility granted the municipality $30,446, the largest regreening grant it has received to date.
A cheque presentation ceremony was held this morning at 11:00 a.m. with Mayor Barb Desjardins accepting the cheque on behalf of the Township from BC Hydro's community relations manager, Ted Olynyk.  
"In Esquimalt we value trees, both within our parks and throughout other areas of the municipality," said Mayor Desjardins. "These funds will help us keep our green spaces attractive and safe for residents and visitors."
According to Township parks manager Andy Katschor, attractive low-growing species will be planted under power lines to minimize hazards to the lines. Species to be planted include a variety of maple species in municipal boulevards, as well as Garry Oak, Douglas Fir and Arbutus in Township parks and green spaces.
"Safe, healthy and beautiful trees and safe reliable electrical service both contribute to the liveability and enjoyment of a community. BC Hydro is pleased to partner with Esquimalt and other communities to enable the planting of the right trees in the right location," said BC Hydro's Brian Fisher, senior strategic planner for Vegetation Management.
BC Hydro launched the Community Regreening Program in 1998 to reduce electrical hazards while enhancing urban forests—creating safer, more attractive, sustainable communities in which to live.
For more information, please contact:
Andy Katschor, Parks Manager
Tel: 250-412-8508