The Township of Esquimalt and its CUPE employees made an early Christmas delivery to the Esquimalt Neighbourhood House on Friday December 19th in the form of two large pallets of donated food, weighing an estimated 1000 pounds. Donations for the drive were collected from generous residents during regularly scheduled garbage pickup days in December and also accepted at Municipal Hall, Esquimalt Recreation Centre, Archie Browning Sports Centre, and the Public Works Yard. Acting Mayor Lynda Hundleby and Public Works employees were on hand to present the donated food to Esquimalt Neighbourhood House Executive Director Mary Lynn McKenna and Board Chair Brian Mee. Food donation boxes will continue to be located in Township facilities until December 23rd, 2014
THANK YOU ESQUIMALT FOR YOUR DONATIONS AND TO EVERYONE INVOLVED IN THE 2014 PUBLIC WORKS CHRISTMAS FOOD DRIVE.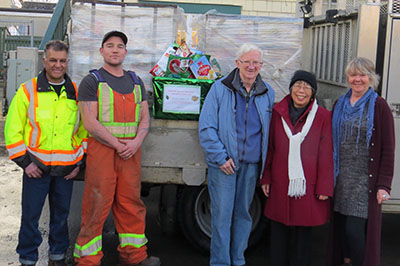 Hanif Hussein and Brent Kauffman from Esquimalt Public Works (left) with
(right) ENH Board Chair Brian Mee, Acting Mayor Linda Hundleby, and
ENH Executive Director Mary Lynn McKenna in front of truck loaded with 
two large pallets of food.
For more information, please contact:
Simone Manchip, Office Administrator, Development and Engineering/Public Works
Tel: 250-414-7108