Esquimalt's rich history will be on display for the next month at the Esquimalt Branch of the Greater Victoria Public Library.
This morning the Esquimalt Centennial Heritage Banner, an Esquimalt 2012 legacy project, was installed in the library entrance way. The banner was developed as part of the 2012 centennial celebrations by local artist David Sudbury with support from Council and the Township's Heritage Advisory Committee. It features ten selected heritage sites highlighted with photographs on a large scale aerial photograph of the Township. The banner measures approximately eight feet wide by 3 feet high.
Those with smart phones can scan QR codes imprinted on the banner to link to the Township's mobile website where more information on each heritage feature is posted. From the website, smartphone users can also access a recorded narration on YouTube describing the heritage feature.
"This banner is emblematic of our centennial year because it honours our past in a very contemporary way," said Mayor Barb Desjardins. "I would like to thank the artist, David Sudbury, for his vision and execution of this work of art, and the Heritage Advisory Committee for their commitment to the project."
The ten heritage features on the banner include: the Federal Graving Dock, St. Paul's Church, the Veteran's Cemetery, the Pemberton Survey Stone, Memorial Park, Esquimalt Gorge Park, Lampson Street School, Captain Jacobson's House, Work Point Guard House and Macaulay Point.
The banner will be on display at the library, located below Municipal Hall at 1231 Esquimalt Road, for the month of June.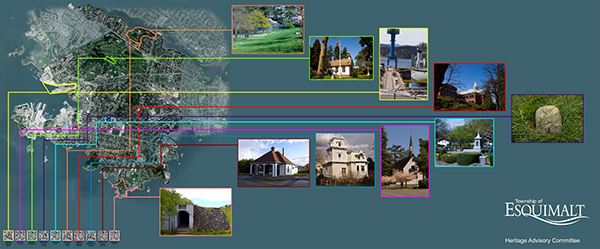 For more information, please contact:
Karen Hay, Planner
Township of Esquimalt
Phone: 250-414-7179