The Township of Esquimalt and its CUPE employees will be collecting food items from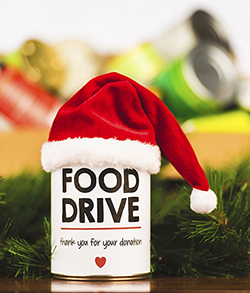 Esquimalt households as part of the 19th Annual Esquimalt Christmas Food Drive.
The food drive will run from Wednesday November 28th to Wednesday December 19th, 2019, and is in support of Esquimalt Neighbourhood House, a multi-service social service agency that provides emergency meals for individuals and families in Esquimalt.
To participate, place non-perishable food items in bags labelled "Food Drive" and place alongside your garbage bins for pick up. A separate vehicle will pick up your donation on your regular garbage collection day.
Food items will be collected according to the following schedule:
During the week of December 3rd to 7th, 2018, food will be gathered from the north side route (north of Old Esquimalt Road).
During the week of December 10th to 14th, 2018, food will be gathered from the south side route (south of Old Esquimalt Road).
Food donations will also be accepted at Municipal Hall (1229 Esquimalt Road), Archie Browning Sports Centre (1151 Esquimalt Road), Esquimalt Recreation Centre (527 Fraser Street) and the Esquimalt Public Works Yard (601 Canteen Road) from November 28th to December 19th, 2018.
Note: Expired non-perishable food cannot be accepted.