Canadian Sport Centre Pacific (CSC Pacific) and Esquimalt Recreation announced today that their partnership, which provides easy local access to high performance facilities through the GymWorks™ program, will continue.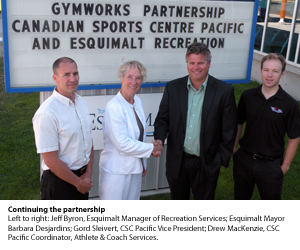 "We are thrilled to announce the continued GymWorks partnership with Esquimalt Recreation Centre," said CSC Pacific Vice President Gord Sleivert. "Both the facility and municipality believe in the value of sport. The community's wellness values are very much in alignment with our own sport performance goals."
Added Esquimalt's Manager of Recreation Services Jeff Byron: "This is an important partnership and we are pleased to make this announcement. It's a win for developing athletes and international stars alike."
Gymworks™ is a partnership program created between fitness facilities, health clubs and/or community centres across the province and CSC Pacific and PacificSport. The program is available to all athletes registered with CSC Pacific and/or PacificSport and enhances training environments by providing easy local access to training centres. GymWorks™ is one of the most popular programs offered by Canadian Sport Centre Pacific and the network of PacificSport Centres. It allows registered athletes to choose between one or more facilities depending on which facility is closest to their home, school or other personal or professional locations.
The Esquimalt Recreation Centre, located at 527 Fraser Street, is a multi-purpose community recreation facility which includes a 4500 square foot Wellness Centre, gymnasium, aquatic centre, a Senior's (50+) Centre, multi-purpose activity and meeting rooms, and out-of-school care and child minding services.
For more information, please contact:
Jeff Byron
Manager of Recreation Services
Township of Esquimalt
Tel: 250-412-8517
Drew MacKenzie
Coordinator, Athlete & Coach Services
Canadian Sport Centre Pacific
Tel: 250.220.2531   www.cscpacific.ca