On January 1, 2003 Esquimalt and Victoria amalgamated police services into a single police force. The Esquimalt Division of VicPD, along with VicPD's K9 Unit, is located in the Township of Esquimalt's Public Safety Building at 500 Park Place, just off Esquimalt Road near Municipal Hall. The division includes three school resource positions and two community resource officers. The division is supervised by one police sergeant and one police inspector. The school resource officers are responsible for police services directed toward youth and schools within the City of Victoria and Township of Esquimalt; the community resource officers provide services to the communities of Esquimalt and Vic West.
Click here to view the 2014 Policing Framework Agreement.
Find out more about VicPD's Internet Property Crime Reporting System here.
Visit the Victoria Police Department website by clicking on the logo below.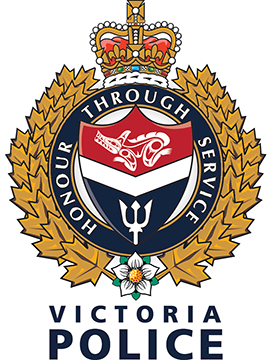 Find out more about Block Watch and how to become a Block Watch captain here.
Greater Victoria Crime Stoppers is a community, media and police cooperative program, designed to involve the public in the fight against crime. Find out more here.