Township of Esquimalt Recreation facilities have some adjusted openings. Playgrounds are open with posted safety reminders. The popular splash pad at the Esquimalt Adventure Park will remain dry until the summer. For related park, program and facility updates, please see our dedicated facility update page:
---
Notices
For weddings in parks, please review the related operating guidelines and details that must accompany your booking request here.
For playing field status, please click here.
Hither Green Playground - Community Consultation. Click here to learn more.
Community Garden at Anderson Park Expansion. Click here to learn more. 
Park
 
Date(s) Affected
Notice
 

Esquimalt  Gorge Park

 
July 2020-January 2022

Construction of a highly energy efficient Pavillion in Esquimalt Gorge Park.  Work includes development of a Japanese inspired reflective pond and landscaping with associated parking and rain gardens. Cibstruction will occur September 15 2020-January 2022 (estimated, subject to change).  Limited parking available at Sioux Pl during the construction period.

As timelines are established and more information is available, notices will be updated and in-park signage will be posted. 

Esquimalt Gorge Park
 
Tuesday March 9, 2021
Washrooms will be closed due to repairs to the water main.  Will reopen Wednesday March 10 at 8:00am
West Bay Walkway
 
Monday March 8, 2021
Waterfountain has been winterized and will be back on in the spring and the hand washing station water is off waiting for repair.
High Rock Park
 
April 12, 2021

This is to inform the public that on April 12th the Township of Esquimalt has contracted the removal of one (1) Grand Fir tree due to tree decline and poor structure as well as the removal of one (1) dead Western Red Cedar located by the Mathison Ave entrance. Native trees will be planted in this location as replacement trees to maintain our urban forest master plan.

During this time, we will also be pruning twelve (12) trees in the cottonwood grove in the same area. This will be done to reduce hazards and enhance tree longevity.

 
 
Click the map below to view park amenities, including which have washrooms, playgrounds, dog on leash, no dogs allowed, etc. features. Enjoy your experience in Esquimalt Parks!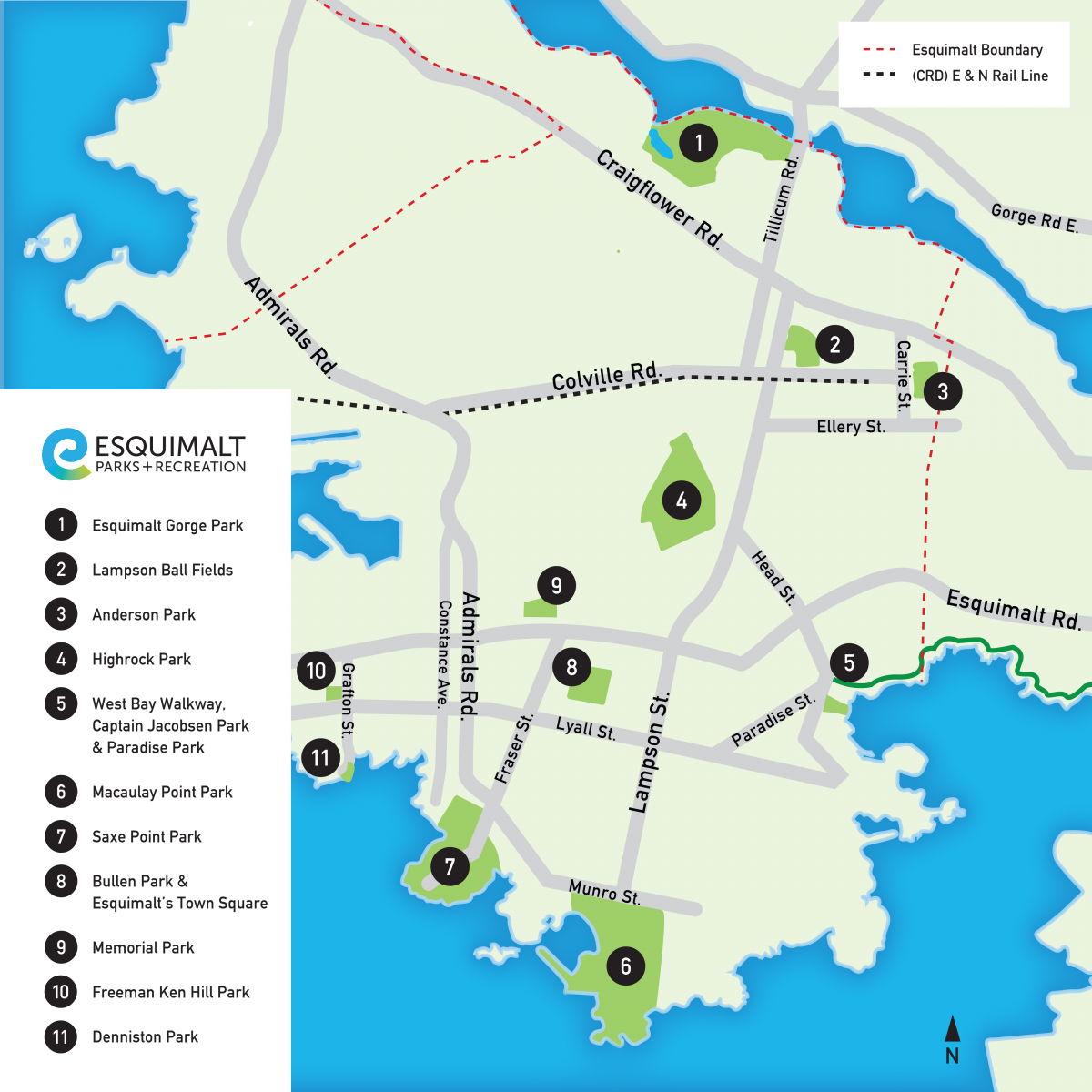 Click here to see updates on the status of our playing fields.
Link to profiles for Esquimalt's: