The Township of Esquimalt's splash pad at the popular Esquimalt Adventure Park will be delighting local children starting Monday, July 6. The  water will be turned on from 10 a.m. to 7 p.m. daily with the washroom open the same hours. Those hours could change however, depending on maintenance requirements and possible future changes to water restrictions or health recommendations.  In addition to the water feature, the fenced park includes some seating and playground equipment. As the space typically sees a consistent flow of visitors during the summer months, park users are asked to respect health guidelines and maintain physical distancing as much as possible, especially adults. 
"While we're pleased to have such a wonderful community amenity in Esquimalt, we need folks to be considerate when enjoying the park.", said Mayor Barbara Desjardins. "If the park is too busy, please return later.  If you've been there for a while and notice people waiting, consider moving elsewhere so that everyone has an opportunity to play."
Like with any public space, if users feel any sign of illness, they are asked to stay home. The reopening is in alignment with the Province of B.C.'s Restart Plan. The British Columbia Recreation and Parks Association and Royal Lifesaving Society of B.C. have provided guidelines for the safe operation of playgrounds and water parks.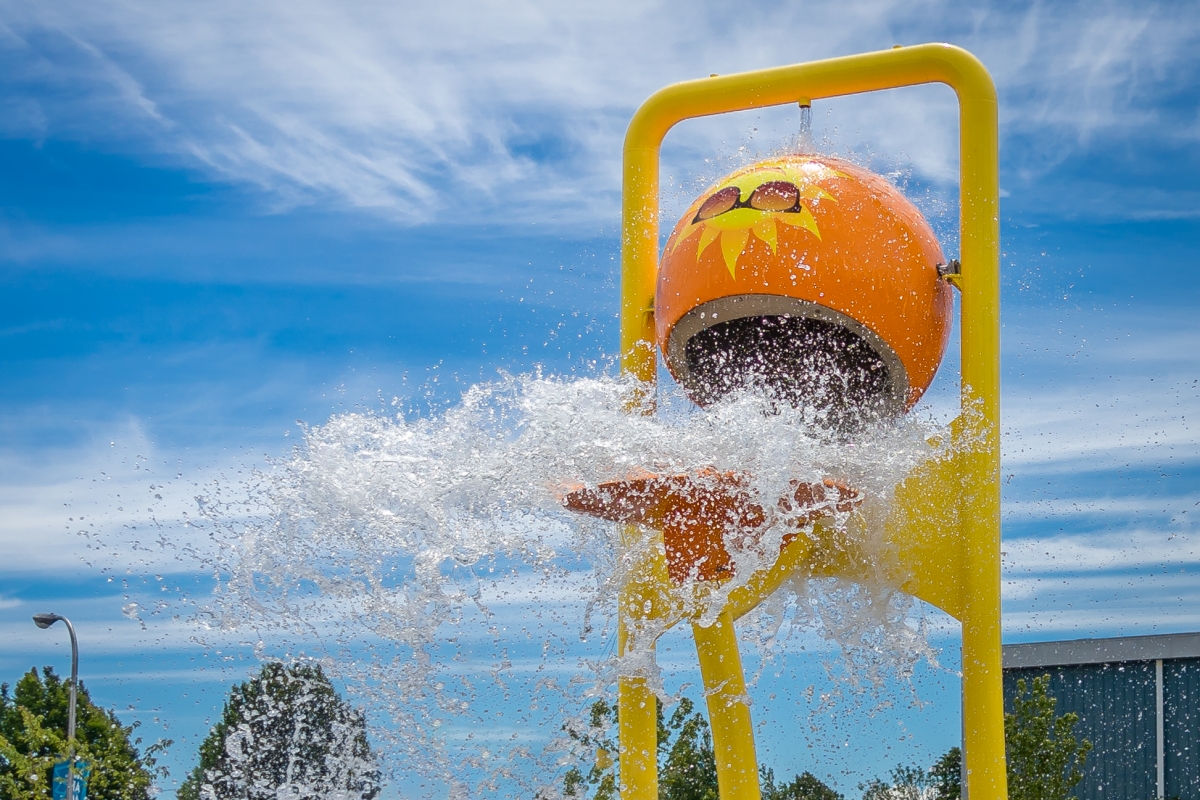 ---
COVID-19 Safety Plan: Esquimalt Adventure Park
Although there is no evidence of Covid-19 transmission in playground environments or through chlorinated water, the plan we have put in place will help to reduce any potential risk. As an active community partner we strive to provide Esquimalt residents with the opportunity to safely access the Splash Park through education, signage and social engagement. This is a collaborative effort and requires compliance from the community to ensure a safe envrionment is available for everyone:
Public are expected to wash/sanitize hands before and after equipment use
Public washrooms are open and stocked with warm water, soap and paper towel
Signage posted communicates:

Do not use the park if you show symptoms of Covid-19 or have been in close contact with those who are sick or have been diagnosed with Covid-19
Respect physical distancing – if the park is too busy to find space that allows you to maintain a physical distance of 5 square metres from other patrons, please come back later.
Respect the public demand on the park by staying for a limited time to allow other families to enjoy the space. We request your stay not exceed two hours.
The park equipment will not be cleaned/sanitized please wash hands before and after use.

Bathroom/Changeroom Disinfectant Schedule at least once per day to include:

door handles, both sides of doors
bathroom stall handles
bathroom doors
toilet handles
toilet paper dispenser
sink handles
paper towel dispenser

Disinfectant Cleaner: Percept. Percept is recognized by Health Canada as a product suitable for "hard-surface disinfectants with evidence against COVID-19".
---
Contact
Esquimalt Recreation Centre, Tel: 250.412.8500