The Township of Esquimalt raised the Port Angeles municipal flag this morning at the Archie Browning Sports Centre as part of a festival twinning agreement. The flag raising signals that the weekend festival of ribs is almost upon us.
Mayor Barb Desjardins and Esquimalt Ribfest Chair Tom Woods raised the flag, with Ribfest committee members and Township staff members on hand.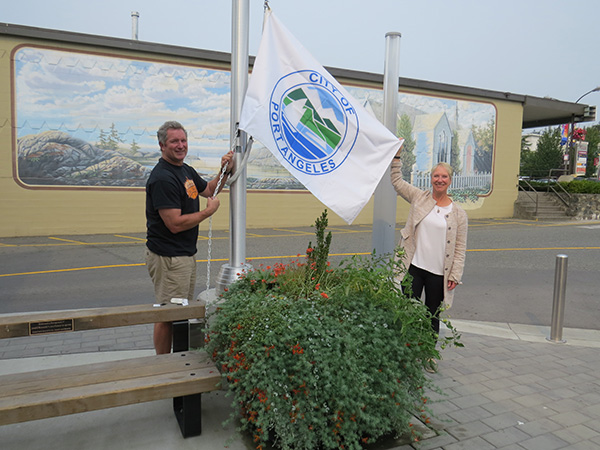 The two communities came to a twinning agreement in 2014 to support each other's festivals: Ribfest in Esquimalt and the Dungeness Crab & Seafood Festival in Port Angeles. The Port Angeles flag will be flown at the Sports Centre throughout Ribfest weekend, September 8-10, while the Esquimalt flag will be flown in Port Angeles at the Crabfest, October 6-8. 
Mayor Desjardins will also be greeting representatives and guests from Port Angeles at Bullen Park in Esquimalt on Friday September 8 at 1 p.m., and will be judging the rib competition on Saturday.
The Esquimalt Ribfest is a three-day festival of food, music and fun for the whole family that supports charities in the community. For full details of the Esquimalt Ribfest, including music schedule and vendors, visit www.esquimaltribfest.com.
The Dungeness Crab and Seafood Festival details are available at www.crabfestival.org. 
For more information, please contact: 
Tom Woods, Chair, Esquimalt Ribfest
Tel: 250-857-1062