The Heart and Stroke Foundation Big Bike Ride is coming to Esquimalt on June 13th. The Big Bike is a bicycle built for 30 that rides through town, powered by teams of fundraisers.
Each team has been working for months to raise funds for the Foundation, and they will celebrate their accomplishments with a heart-pumping two kilometre ride through Esquimalt. 
The route starts at Bullen Park, goes down Lyall Street, up Admirals Road, across Esquimalt Road and down Macaulay Street back to Lyall Street to finish once again at Bullen Park. The community is invited to join us in cheering on our riders anywhere along the route.  Big Bike Rides will start at 9 a.m. and be completed by 5 p.m.
For more than 60 years, the Heart & Stroke Foundation has been dedicated to fighting heart disease and stroke. The Foundation's work has saved thousands of lives and improved the lives of millions of others.  Heart and Stroke's current goals are to reduce risk factors of heart disease and stroke by 10% and reduce the death rate by 25% by 2020. This year, the Township is joining that fight by hosting the First Annual Esquimalt Heart&Stroke Big Bike ride!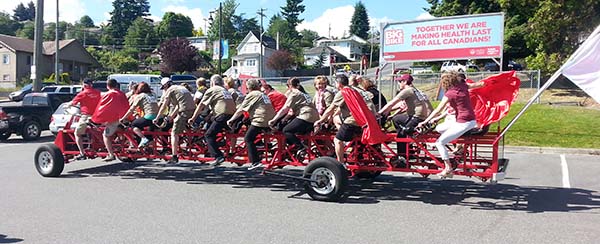 For more information, or to register a team, contact:
Lea Silver
Community Development Coordinator, Heart and Stroke Foundation
Tel: 250-410-8094
Email: [email protected]