The Township's Revitalization Tax Exemption Bylaw is an incentive for businesses and properties to beautify the corridor while also supporting heritage conservation.
The initiative is part of Esquimalt's Economic Development Strategy, which identified a number of strategies and actions for promoting economic growth and creating a welcoming climate for businesses and property owners including the renewal of Esquimalt Road.
Program eligibility
The program provides property tax relief to approved properties for new construction and exterior improvements that have a minimum construction value of $10,000. Properties that are eligible under the program include parcels that are zoned for commercial, mixed use and multi-family buildings (with four or more units) and where at least 50 per cent of the parcel's land is located within the revitalization area.
Revitalization area
The revitalization area is defined as the area located within 150 metres of the Esquimalt Road corridor between Dominion Road and Canteen Road. View the map.
Community consultation
The Bylaw received Council adoption on August 24, 2015. Council considered the input of property owners, the public and municipal staff before developing a revitalization tax exemption program for Esquimalt. Please note that establishing a bylaw does not in itself guarantee a tax exemption. Owners of eligible property must first make an application to Council and be approved.  
Application process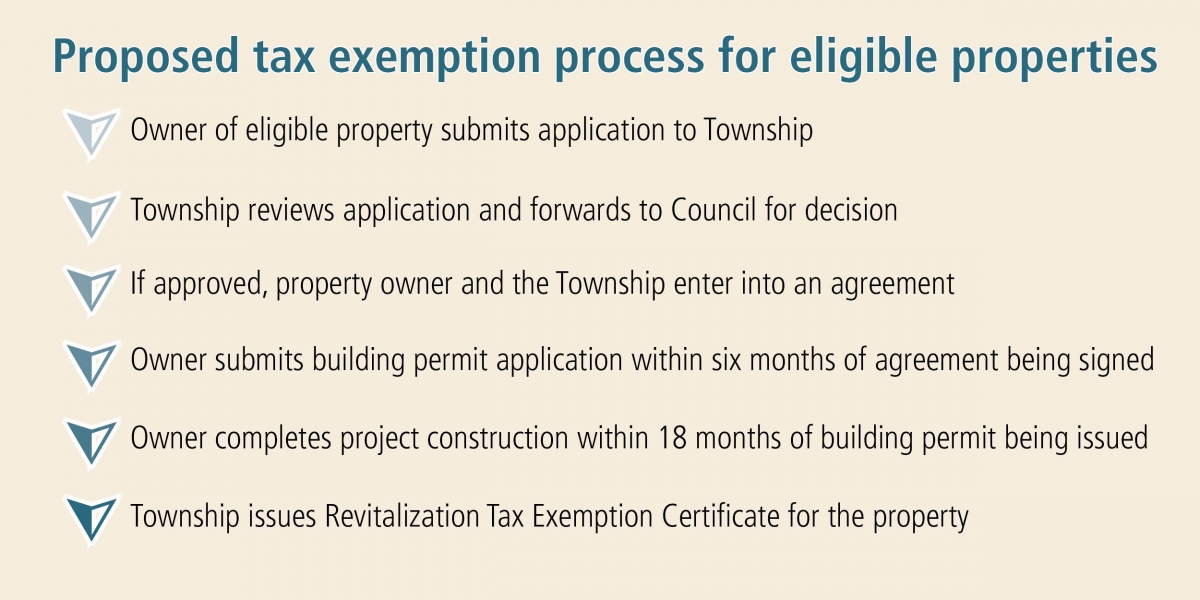 Applications must be in writing and provide a description of the project as well as acertificate from a contractor or design professional, certifying that the Project's value will exceed $10,000. 
Submit completed applications in an envelope clearly marked, or as attachment(s) via email with the subject line, "Revitalization Tax Exemption Application", to:
Ian Irvine, Director of Financial Services
Corporation of the Township of Esquimalt
1229 Esquimalt Road
Esquimalt, BC V9A 3P1
Email: [email protected]
Want to learn more?
For more information, please contact:
Ian Irvine, Director of Financial Services
Tel: 250-414-7141