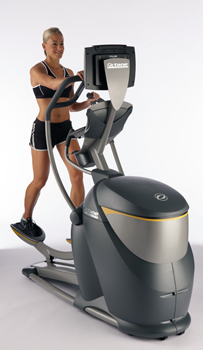 Esquimalt Recreation has purchased 15 new pieces of fitness equipment, which were selected with feedback from recreation centre patrons.  The equipment will be installed over the coming days, with expected installation of all pieces by December 1st, 2010. Esquimalt Recreation staff will be receiving orientation on the equipment at the following times: 
Wednesday, December 1st-  10 a.m. to 11 a.m.
Thursday, December  2nd -  8 a.m. to 9 a.m.
Friday, December  3rd -  11 a.m. to 12 p.m.
Patrons wanting to learn more about the equipment should visit the centre during these times.
The new equipment includes:
By SportsArt:
4 recumbent bikes (2 with TV's)
2 treadmills
1 upright bike
1 stepper
By Octane:
4 elliptical trainers (2 with TV's - shown at right)
1 seated elliptical trainer (with TV)
By Sci-Fit:
Upper/lower body ergometre
By Paramount: 
Functional trainer (strength machine)
For more information, please contact:
Heather Bailley, Fitness Programmer
Tel: 250-412-8502