World Migratory Bird Day is a time to discover the wondrous birds that join us every spring, and celebrate the impressive journey they've endured! The second Saturday of May each year marks a celebration as Canadians re-discover their feathered friends, and nature organizations across the country launch educational and interactive resources to help kids and adults alike experience their diverse journeys.
Birds Connect Our World is the theme of World Migratory Bird Day 2020. As birds return to our neighbourhoods, we urge you to wonder and appreciate where they've come from, how far they've traveled, and the community conservation efforts worldwide dedicated to protecting their habitats so they can make this journey each year.
This year Naturehood YYJ is participating in a virtual event that is being co-hosted on Facebook by the Rocky Point Bird Observatory and the Victoria Natural History Society. We invite you to join in this participatory event, providing a fun way to inform your bird knowledge and share your interest with others. 
We challenge you to participate in our Discover Migratory Birds activities, and download resources to help you uncover, cultivate, and celebrate your inner birder.
Activities
DISCOVER: Participate in a fun quiz to showcase your Bird knowledge
RESTORE: Take action building a bird nesting box, finding native plants in your area or creating windows decals – find our why these actions make such a difference and for activity instructions, see here
INFORM: Rock Point Observatory invites you to join for a virtual World Migratory Bird Day celebration where photos will be shared, stories swapped, and love of migratory birds on full display.

When: Saturday, May 9, 2020 at 12pm Pacific Time. Register for this presentation here.

[COMING SOON!!!! - Please check back] CELEBRATE: Get excited about birds with BIRD BINGO proudly presented by The Robert Bateman Centre
Engaged on social media? Share with us by using the hashtags: #BirdDayEh & #NatureHoodYYJ – let us know:
How you did in the quiz?
Did you build a bird box, discover a native plant or create a window decal? We'd love to see love of your projects!
Post playing BIRD BINGO
Did you know…
Gorge Creek was restored in 2005 and is now home to native plants and wildfowl unique to the region. Please see here to learn more about the Victoria Harbour Migratory Bird Sanctuary, which travels along the Gorge Waterway.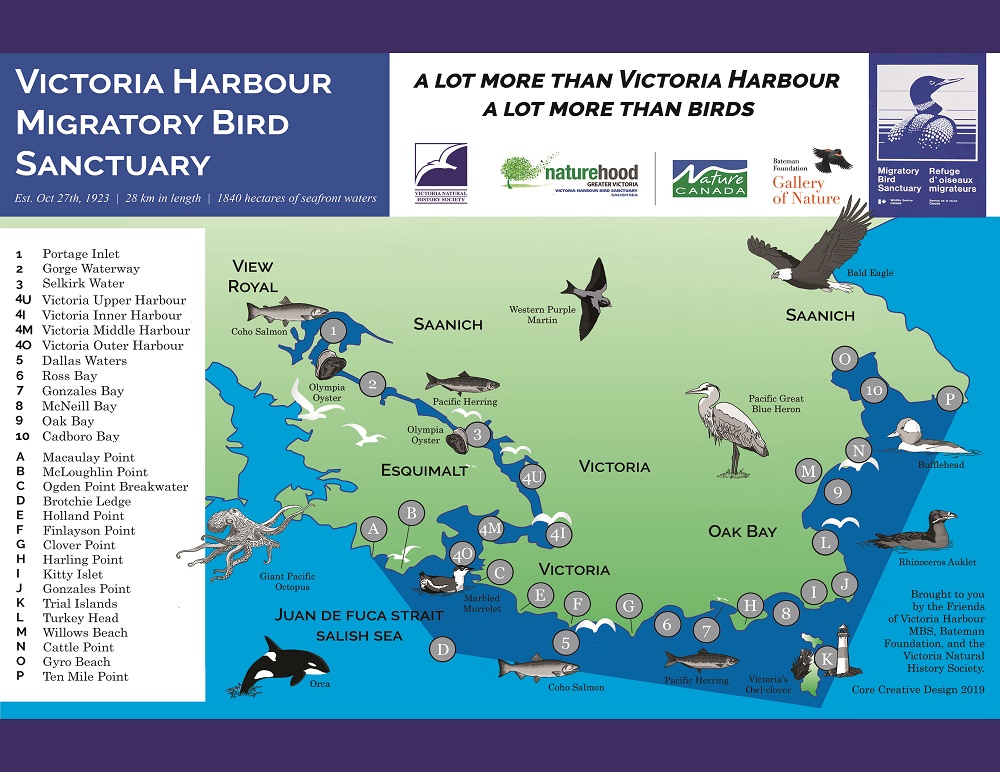 Additional Resources
Esquimalt's Celebration of World Migratory Bird Day is made possible through the Victoria Naturehood Collaboration.
What is NatureHood?
Your NatureHood is nature right in your neighbourhood – from the biggest cities to the smallest communities. It's nearby nature: the park at the end of your street, your backyard, a tree-lined street, an overlooked urban forest fragment, or a special green space in your community. Your NatureHood is any place in which you 'connect' with nature's wonder – from watching a bee pollinate a flower in your planter box, to feeding wild birds, to witnessing the trees change with the passing of the seasons.
What is the Victoria NatureHood Collaboration?
Victoria NatureHood is a partnership between organizations sharing a passion and care for the environment and our communities encouraging a connection to nature by getting outdoors. Participating organizations include: