Update, April 2, 2020:
Every year the Buccaneer Days Committee, along with the community, look forward to this treasured community celebration. The Buccaneer Days Committee recognizes that it is not possible to proceed safely with this event given the COVID-19 Pandemic. The 2020 event is cancelled. 
Those who have already purchased wristband tickets can retain them for future use at any West Coast Amusements event. Please be advised that at this time, all West Coast Amusement Operations are on hold. Please refer to their website for the latest information on their operation. 
Those who have paid deposits toward vendor tables in the marketplace will be refunded. The Buccaneer Days Committee will be in touch by email. 
While not being able to proceed with this event is disappointing, the safety of the community is priority. From the Buccaneer Days Committee, we wish you well during this challenging time. The Friends of Esquimalt Buccaneers looks forward to welcoming you with the greatest of "AHOY MATEY's" in 2021.
---
Get your eye patch and sword ready – it's pirate time!! Come out and celebrate with us during this historic annual event that has activities for all ages.
Click item below for additional information:
---
Schedule of Events  
Stay tuned!
---
Midway Hours & Ticket Information
Midway operated by West Coast Amusements. Open:
Friday, May 8th, 3:00pm – 10:00pm – $40 wristband
Saturday, May 9th, 11:00am – 10:00pm – $40 wristband
Sunday, May 10th, 11:00am – 6:00pm – $40 wristband
Wristband tickets will be sold at the Esquimalt Recreation Centre. Wristband tickets are good for one day and are available for the discounted price of $32 from March 1-May 5th (while quantities last). Wristband tickets can then be redeemed at the Midway Ticket Booth for ones wristband on their preferred day.
Wristbands tickets are non refundable and non traceable so please ensure that these are kept in a safe place after purchase. 
---
Community BBQ sponsored by Country Grocer 
Join your friends and neighbours for a burger over at the Archie Browning Sports Centre before the Buccaneer Days festivities kick off. We're bringing the BBQ to the front of the Sports Centre for something a little different this year. Space will be available inside the Curling Rink to sit, or take your burger to Bullen Park and enjoy a picnic while watching all of the midway rides get rolling. No registration required, $5 at the door gets you a burger, drink, and bag of chips, while supplies last. Students from Macaulay School will perform a pirate-themed play at 12:45pm in the Curling Rink.
---
Parade 
The parade begins at 10:00 a.m. on Saturday, May 9th at Old Esquimalt Road and Dominion, travelling west on Esquimalt Road to Admirals.
Road closures will commence at 9:15 a.m. (Esquimalt & Dominion) with Esquimalt Road closing for the parade at 9:45 a.m. Road will re-open by approximately 11:30 a.m. Marshals will be located along the route to assist vehicles during this time with alternative routes.
Can you help as a parade marshal?
Volunteers are needed for marshalling along the route. Receive a great place to view the parade and help make sure this event is safe for all involved, email to let us know you/your sports team/organization is able to assist. 
---
Pirate's Den
Need a rest from the rides? Come out and enjoy this FREE children's area. Lots of activities including a Buccaneer themed bouncy castle, arts & crafts, face painting, and some light snacks provided by Country Grocer. Open Saturday May 9th 11:30 a.m-3 p.m. 
---
Marketplace
Hours of Operation:
Saturday 10:00 a.m. to 5:00 p.m. and Sunday 10:00 a.m. to 4:00 p.m.
The Marketplace will showcase talented local artisans and crafters with an exceptional assortment of handmade goods. In addition, there will be informative displays from local community groups and not-for-profit associations including the ever popular model train demonstrations. 
Contact info (Marketplace only) - [email protected]
---
Buccaneer Dance 
Saturday, May 9, 7:00 p.m. to 1:00 a.m. at the Archie Browning Sports Centre Curling Rink, 1151 Esquimalt Road, featuring bands Rock Steady and Bush League!
Tickets ($15/each) are available at the following locations:
Len Fraser Barber Shop (#3 - 1230 Esquimalt Rd.)
VicPD Esquimalt Division (500 Park Place). 
Drinks are $6 each with proceeds going to youth sports.
---
Event Parking
Alternative modes of Transportation are always encouraged as parking is limited with the Midway taking place in the rear lot of the Archie Browning Sports Centre. Use the TRIP PLANNER through BC Transit for bus routes from your location to the Archie Browning Sports Centre.
Parking is available in the Township of Esquimalt parking lot at Macaulay Point Park on Munro Street (an 800m walk - see route here). Street parking is available however; please respect RESIDENTIAL PARKING ONLY zones as parking is enforced. 
Parking in the Esquimalt Shopping Plaza lot is available for plaza merchants only. Thank you for helping ensure our local businesses thrive by having availability for their customers to park & shop.  
---
Traffic During Parade
Saturday, May 9th
Esquimalt Road will be closed from approximately 9:30 a.m. to 11:30 a.m. from Dominion Street to Constance Avenue. Please use alternate routes. BC Transit will also have adjusted routes to accommodate the event. See the parade detours.
Detours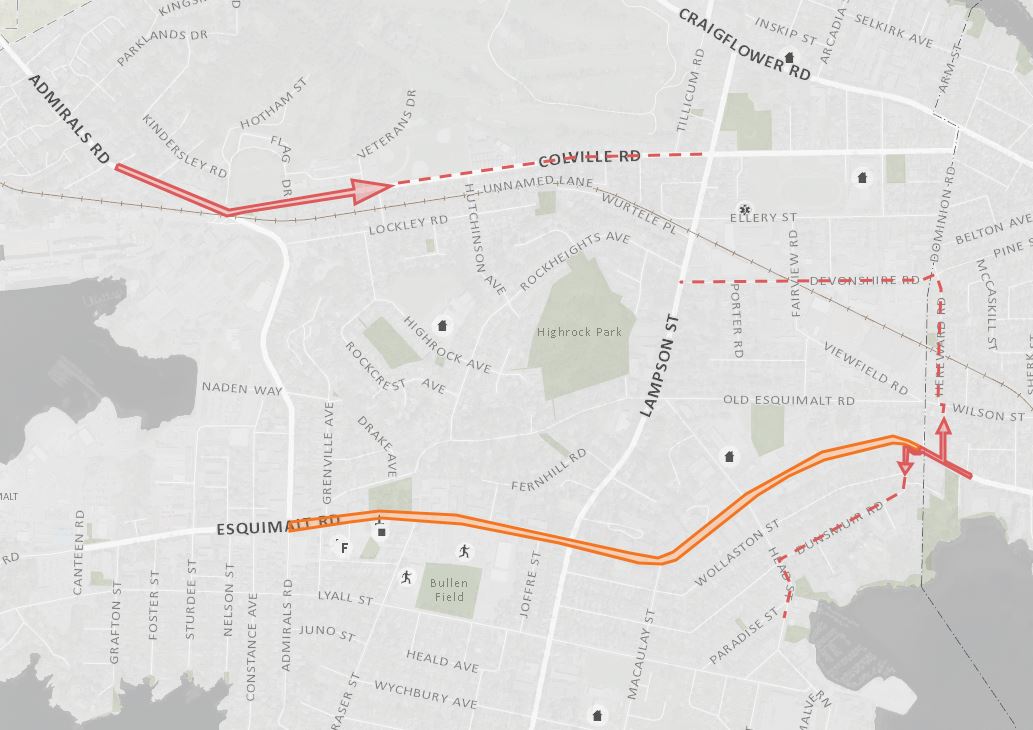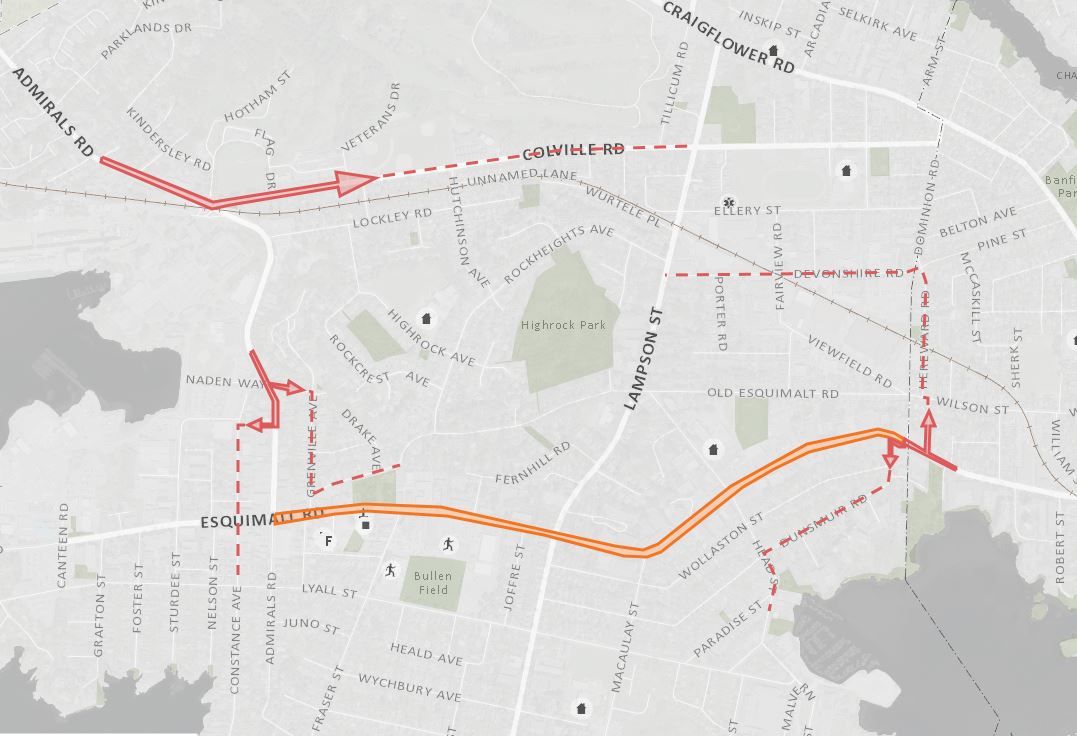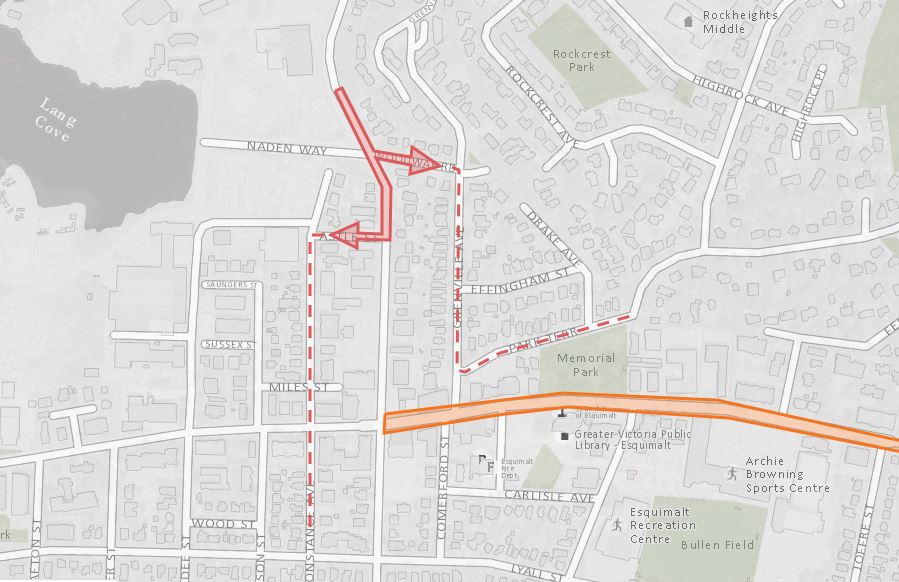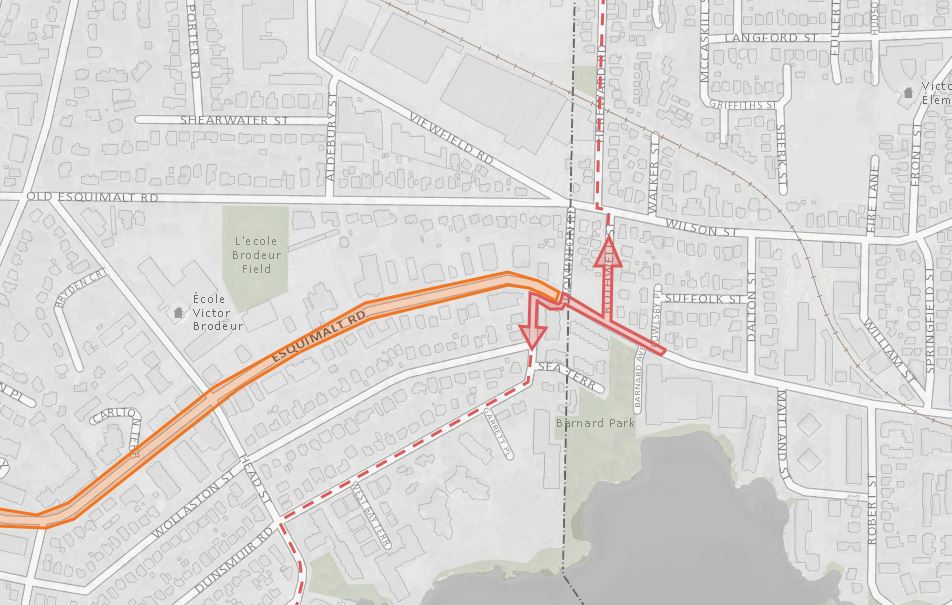 Friday, May 8, 2020 -

00:00

to

23:55