Visit beautiful Saxe Point Park to see Vancouver-based Aeriosa perform "Dancing Trees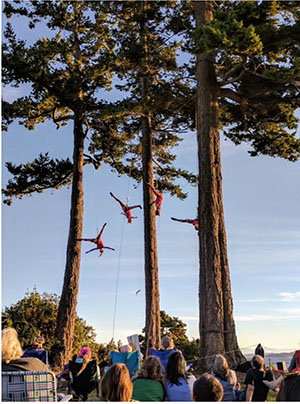 by the Salish Sea" high above the audience in the park's majestic Douglas fir trees.
Two exciting performances are scheduled, beginning at 6:30 p.m. and 7:30 p.m. The event, presented by the Township Community Arts Council, also features the Esquimalt Singers and Dancers.
As parking is limited in the park, please walk or cycle if possible, and bring your own blankets and chairs to enjoy the performances comfortably.
Learn more at the Township Community Arts Council website.
Watch for the McLoughlin Amenity Funds mobile engagement booth at this event. Stop by the booth and provide your thoughts on capital improvements in waterfront parks, recreation facilities, and a public safety facility. www.esquimalt.ca/engage
Through its Local Grants Program, the Township of Esquimalt is proud to be a sponsor of Aeriosa.